WELSER

, the name of a famous family of German merchants, members of which held official positions in the city of Augsburg during the I3th century. The family first became important during the 15th century, when the brothers Bartholomew and Lucas Welser carried on an extensive trade with the Levant, and had branches in the principal trading centres of south Germany and Italy, and also in Antwerp, London and Lisbon. The business was continued by Antony (d. 1518), a son of Lucas Welser, who was one of the first Germans to use the sea route to the East, which had been discovered by Vasco da Gama. The Welsers were also interested in mining ventures; and, having amassed great wealth, Antony's son Bartholomew (1488-1561) lent large sums of money to Charles V., receiving in return several marks of the imperial favour. Bartholomew and his brother Antony, however, are chiefly known as the promoters of an expedition under Ambrose Dalfmger (d. 1532), which in 1528 seized the province of Caracas in Venezuela. With the consent of Charles V, this district was governed and exploited by the Welsers; but trouble soon arose with the Spanish government and the undertaking was abandoned in 1555. After Bartholomew's death the business was carried on by three of his sons and two of his nephews; but the firm became bankrupt in 1614. Bartholomew's niece Philippine (1527-1580), the daughter of his brother Francis (1497-1572), married the Archduke Ferdinand, son of the emperor Ferdinand I.

Perhaps the most famous member of the Welser family was Antony's grandson, Marcus (1558-1614). Educated in Italy, Marcus became burgomaster of Augsburg, but was more distinguished for his scholarship and his writings. The most important of his many works is his Rerum Boicarum libri quinque, dealing with the early history of the Bavarians, which was translated into German by the author's brother Paul (d. 1620). His works, Marci Velseri opera historica et philologica, were collected and published with a biography of Marcus by C. Arnold (Nuremberg, 1682). The Augsburg branch of Welsers became extinct in 1797, and a branch which settled at Nuremberg in 1878; but the Ulm branch of the family is still flourishing.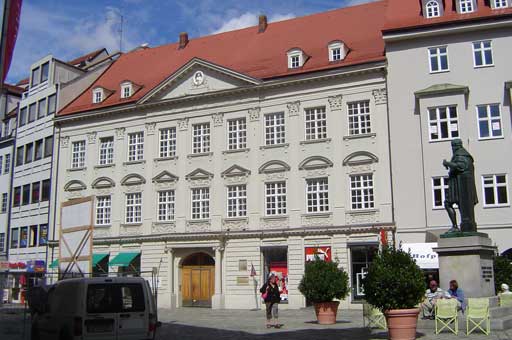 The Welser House in Augsburg
See K. Habler, Die iiberseeischen Unternehmungen der Welser (Leipzig, 1903); W. Boheim, Philippine Welser (Berlin, 1894); and A. Kleinschmidt, Augsburg, Nurnberg und ihre Handelsfursten (Cassel, 1881).
from http://5.1911encyclopedia.org/W/WE/WELSER_FAMILY_.htm