Gallery of Faustindorf
The Hoffmans and Spitzers moved here around 1836 and exited around 1855. The Mennonite Encyclopedia states that a Busch in his trip through Volhynia about in 1859 found Faustindorf as having 107 adherants (Lutherans) with 17 children in school; the teacher was paid 15 Rubels and the produce from a garden and meadowland. He also received his accommodation and heating for free. Jacob Reiser was the teacher prior to the departure.

A Map Locating Faustindorf

Hard to Read the Map? Click here for the Adobe Acrobat Version.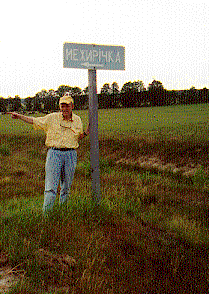 Bill Next to Faustindorf Sign Pointing to the Village

The Nearby Lowlands Were Used to Process the Flax
and the Sandy Uplands to Grow the Flax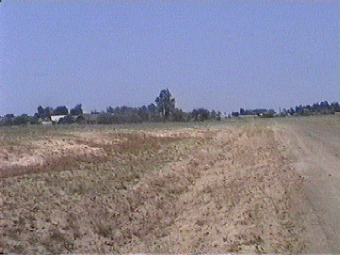 The Sandy Soil on the Uplands with
Faustindorf in the Background