Schonwalde (Ostrowek) , Kreis Wirsitz, West Prussia
Ostrowek, Kreis Wirsitz is a manorial village just east of Vandsburg. It dates back to at least 1531. In 1793 General Alexander Potulicki owned the village. This village is important to me as Martin Busse was the gutsbesitzer of this village. That is, he owned the manorial village. Click here to find him as the head of family 6 in the Genealogy of Lorenz Christoph Remus and Marianne Wenski. Here is the Busse family genealogy.
Martin Busse married Helena Remus the daughter of Lorenz Christoph Remus and Marianne Wenski of Gnielke in about 1776 and Martin and Helena were the Gutbesitzers (owners) for the manorial village below in Ostrowek around 1812. Presumably they bought the village from the Polulicki family. This Remus family, the Wenski family, and the Busse family were relatively wealthy for that era so purchase was possible.
After the defeat of the Prussians by Napoleon, a reformed mined government starting in 1807 sought to free the peasants working on manorial farms. Thus Martin Busse was less like a noble and more like an owner and manager of a large farm. The workers were no longer peasants bound to serve the lord of the manor but more like employees owning their own home and gardens.
Here are two pictures of the estate house (gut):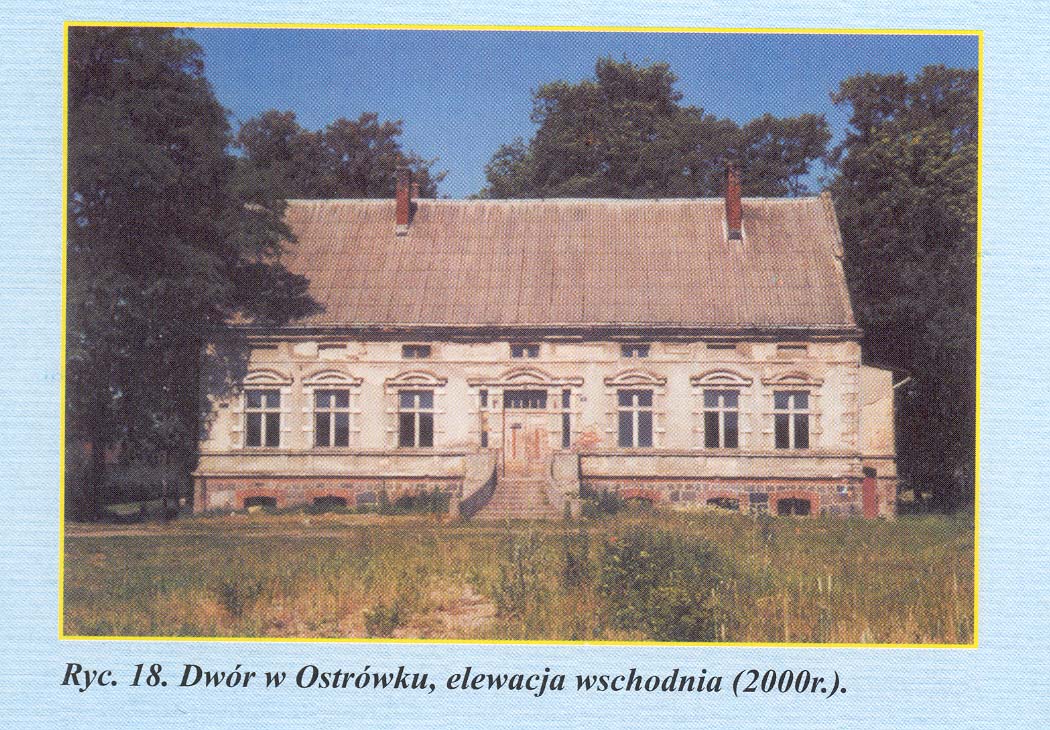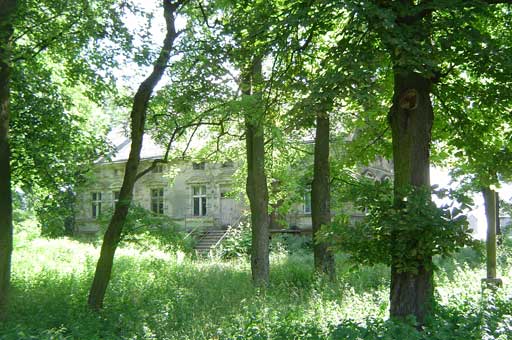 Here are the fields behind the gut including the wooded area that contained the cemetery.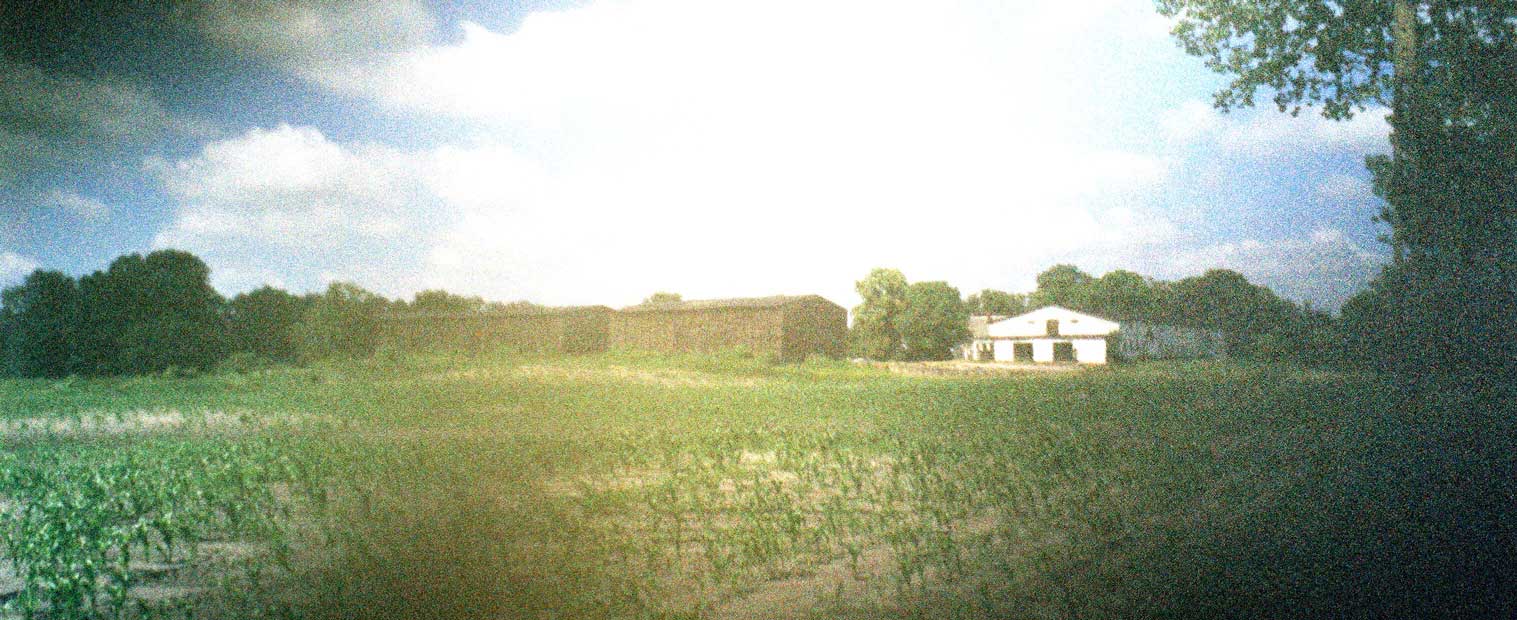 The entrance to the estate is shown in the following picture. Note the peasant homes that flank the entrance road.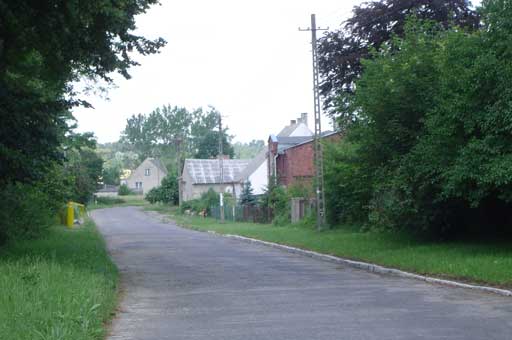 Martin Busse died in 1832 and the ownership of the village passed to his daughter Eva Rosina Busse, thus making her husband Carl Ludwig Jahrmaerker the new gutsbesitzer (owner) of this manorial village. Martin Busse had sons so perhaps all the sons had died before Martin Busse died leaving no male heirs and resulting in the estate being left to the oldest female heir, Eva Rosina Jahrmaerker nee Busse. Or perhaps Carl Ludwig Jahrmaerker was able to buy the estate from the male heirs; this could happen if the male heirs wanted to sell due to ownership of other land. However it happened, Carl Ludwig showed up in the church book as the gutsbesitzer. While I am related to the Remus line here, Diane Sachs

<dsachs@wi.rr.com> is a descendent of this Jahrmarker family.

Here is a map of the location of the village (labeled here as Schonweiher) which is just west of Vandsburg

: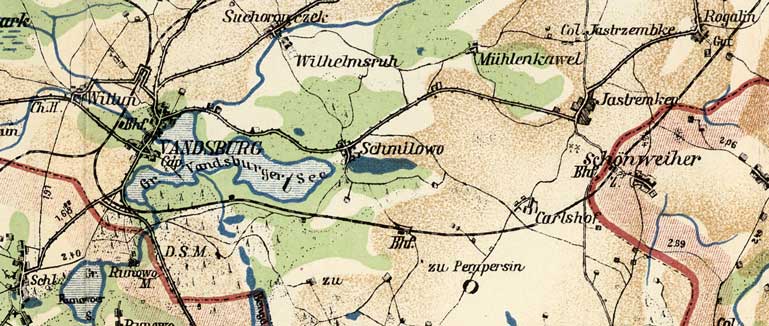 Here is a close up ….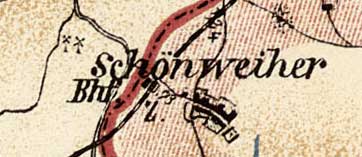 Click here to go to other West Prussia Villages.
Please send any queries to Bill Remus at
March 6, 2012