http://www.google.com/language_tools?hl=enTranslate?
Gross Borroschau (Boroszewo)
(newly updated and corrected)
Gross Borroschau (Boroszewo) in Kreis Dirschau is a manorial village located just north of Preuss Stargard. The Von Epinger family owned this estate prior to 1500; they were starosts of the Teutonic Knights. Initially it also had a castle that was part of the Teutonic Knight's system of fortified castles. This castle was destroyed and the castle at Ossiek took its place. Click here for more information on this family as provided by Von Epinger descendent Jis FJ Kussowski <jisco8@bigpond.com>.
The property was in the hands of the Von Epinger family until at least the year 1644 (Samuel von Epinger) and possibly even to 1795. Then it changed hands often. The manor and village was badly damaged in the Great Northern War of the 1600's and 1700's. In 1826 it was sold at auction to the Westphal family. In 1844 Albrecht Bruhns acuired it. In 1846 it was sold to Baron Wilhelm von Paleske from Swaroschin. In 1874 it passed to Berhnard von Paleske. In 1887 it was auctioned again and came into the hands of the Harras family who held it till 1945. The property originally had its own brewery and mill. In 1910 there were 248 people in the village.
This village is important to me as the descendents of Johan Remus and Constantia Krause were here. Johan and Constantia's descendents ended up in nearby Labunkan, Gardschau, and Janin (all shown on the map below) and ultimately Oil City, Pennsylvania. Their likely ancestor is Adam Remus (who lived in Miradowo at the time of the West Prussia census in 1772).
Here are pictures of the gate to the old manor house (gut) and of the manor house (now broken into apartments):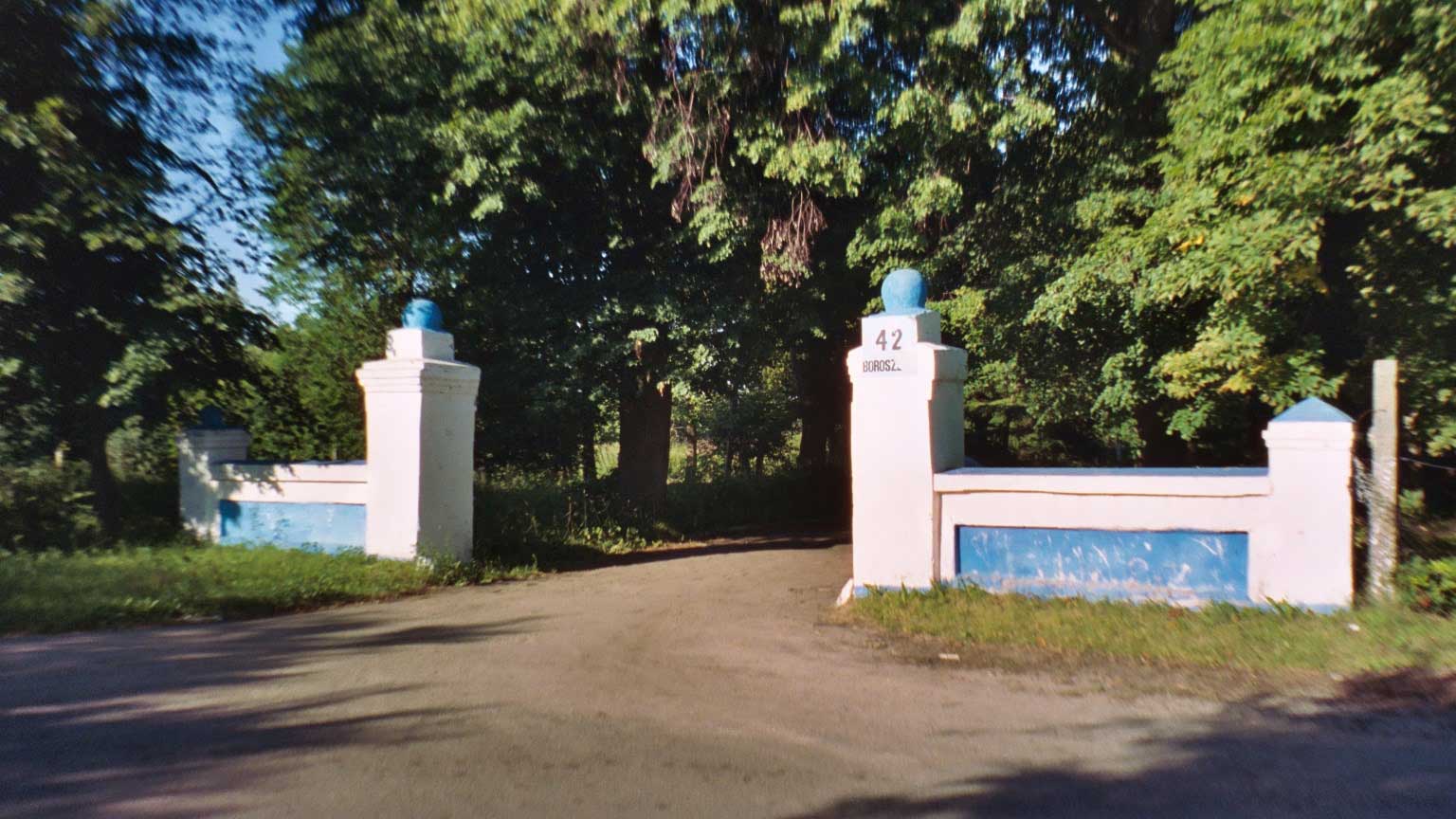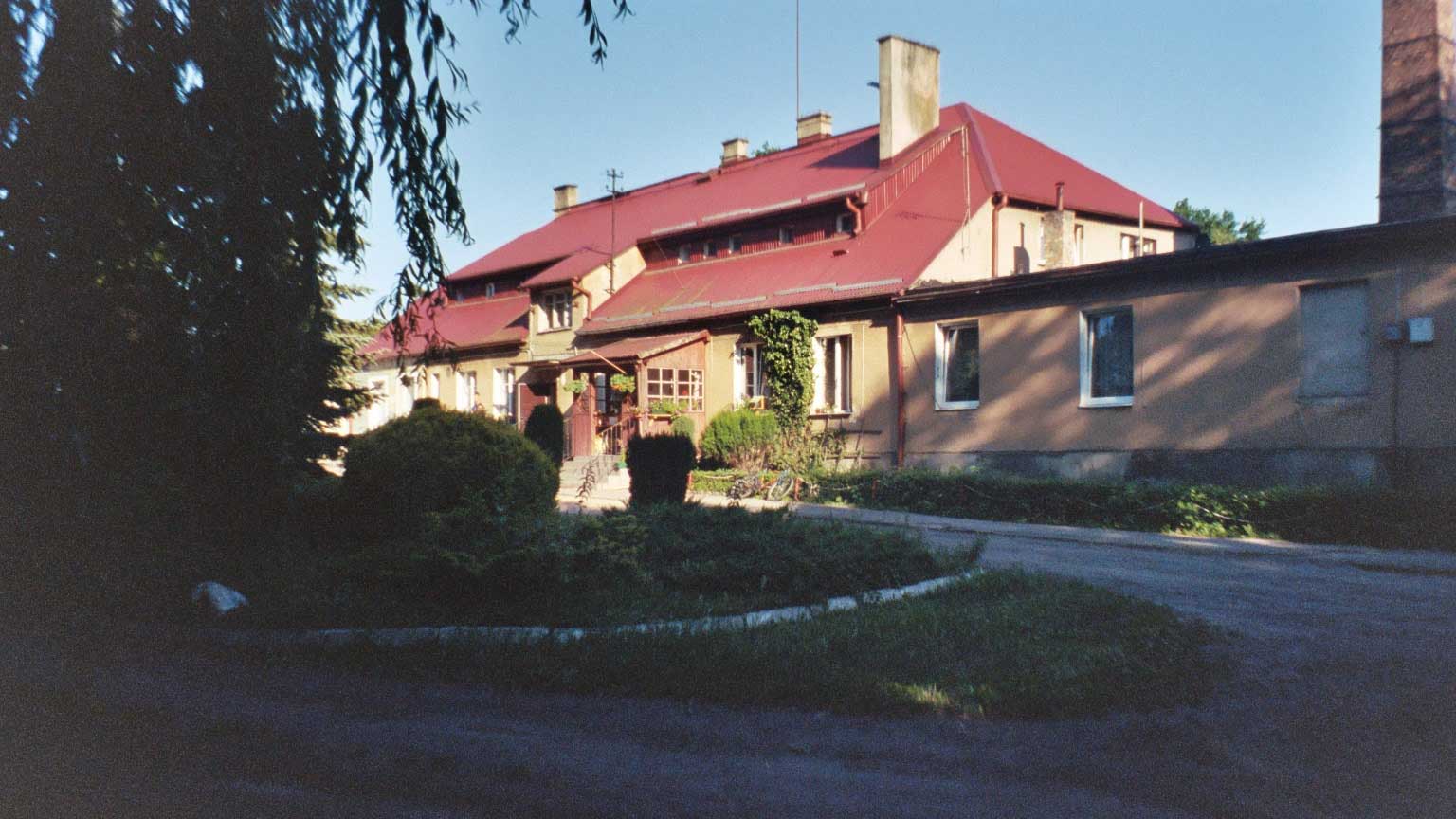 There is the manorial village nearby but I did not take a picture of it.

Website

http://home.foni.net/~adelsforschung2/preuss.htm lists the Polish Nobility in many Polish villages between 1700 and 1800. For Boroschau, it lists nobles v. Jannewitz, v. Massow, v. Ustarbowski, v. Schachmann, Grafen v. Krockow, and v. Dziecielski.

Here is a map showing this village (center and down from top) and the area: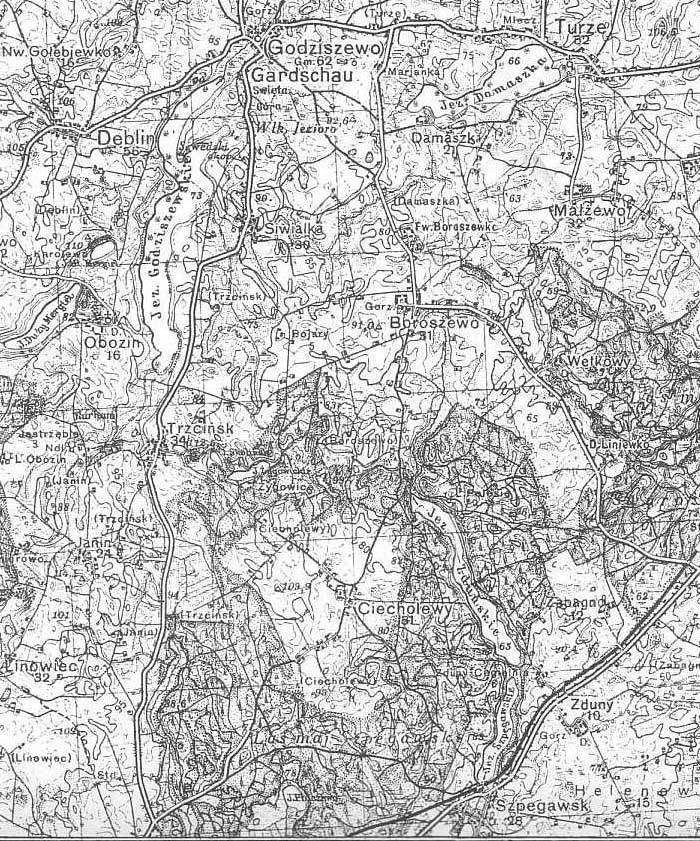 Click here to go to other West Prussia Villages.
Please send any queries to Bill Remus at
September 1, 2008