Ossiek (Osiek)

Ossiek is a village located on old amber route between the Baltic States and Western Europe. According to tradition, St. Adalbert stayed here for one night in 997. It was colonized for first time by Wladyslaw Odonic in 13th century along with other villages in Tuchola Forest.

In 14th century the

Teutonic Knights built a small castle here. During the Thirteen-Year War (1454-1466), the castle was destroyed. Ossiek later became the seat of starost due to the destruction of the starost's castle in Borzechowo near Zblewo. Villages belonging to starost: Skórcz, Grabowo, Wielbrandowo, Gasiorki, Mirotki, Skrzynka, Barlozno, Lipia Gora and Kierwałd.

The starost was the regional representative of the King. Thus the village of Osiek had a privileged status. It residents had freedoms beyond those of average peasants including the right to harvest wood and berries from the forests surrounding the village and the right to build their houses from forest materials on the land in the village. The small wooden house below is a good example of such a house: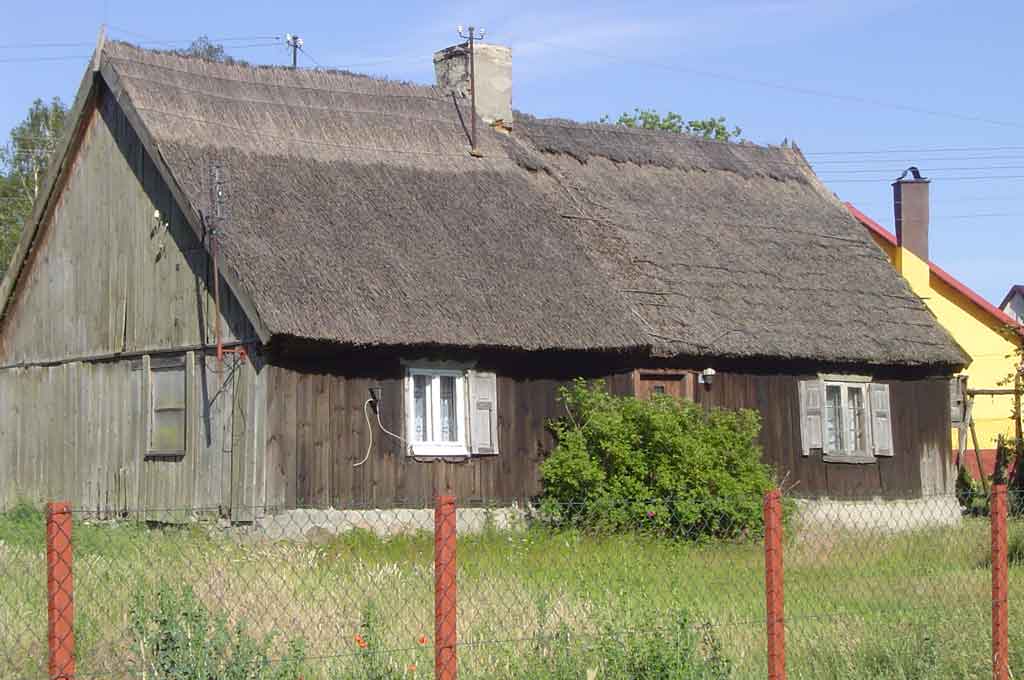 In 1565 Adam Walewski built a renaissance palace with an arcaded courtyard on the ruins of the Teutonic Knight's castle. It was destroyed by Swedish army in the 17th century and never rebuilt afterwards. Both were on the peninsula of land shown here at the lakeside:

My interest in this village is in 1772 this was the administrattive headquarters for villages associated with the Remus family in nearby villages

Kierwald and Skrzynia.

According to legend on turn of 1812/1813, the French army coming back from Moscow sank valuables in the lake; the second part of them was buried under a tree by forestry in Karsznia.

The

manorial farm was divided into small farms after partitions of Poland (here no date in given, I suppose that it was started about 1920). Between first and second world wars posts from bridge connecting manorial farm and castle were visible in water. In 1920's it became a popular summer resort.

The parish church built in 1866, but there was always a chapel on the castle land. In early reformation times (1575-1590's), it was a Lutheran chapel; earlier and later it was a Catholic one. The parish church was for centuries in

Skorz; in 1866 Ossiek became an independent parish.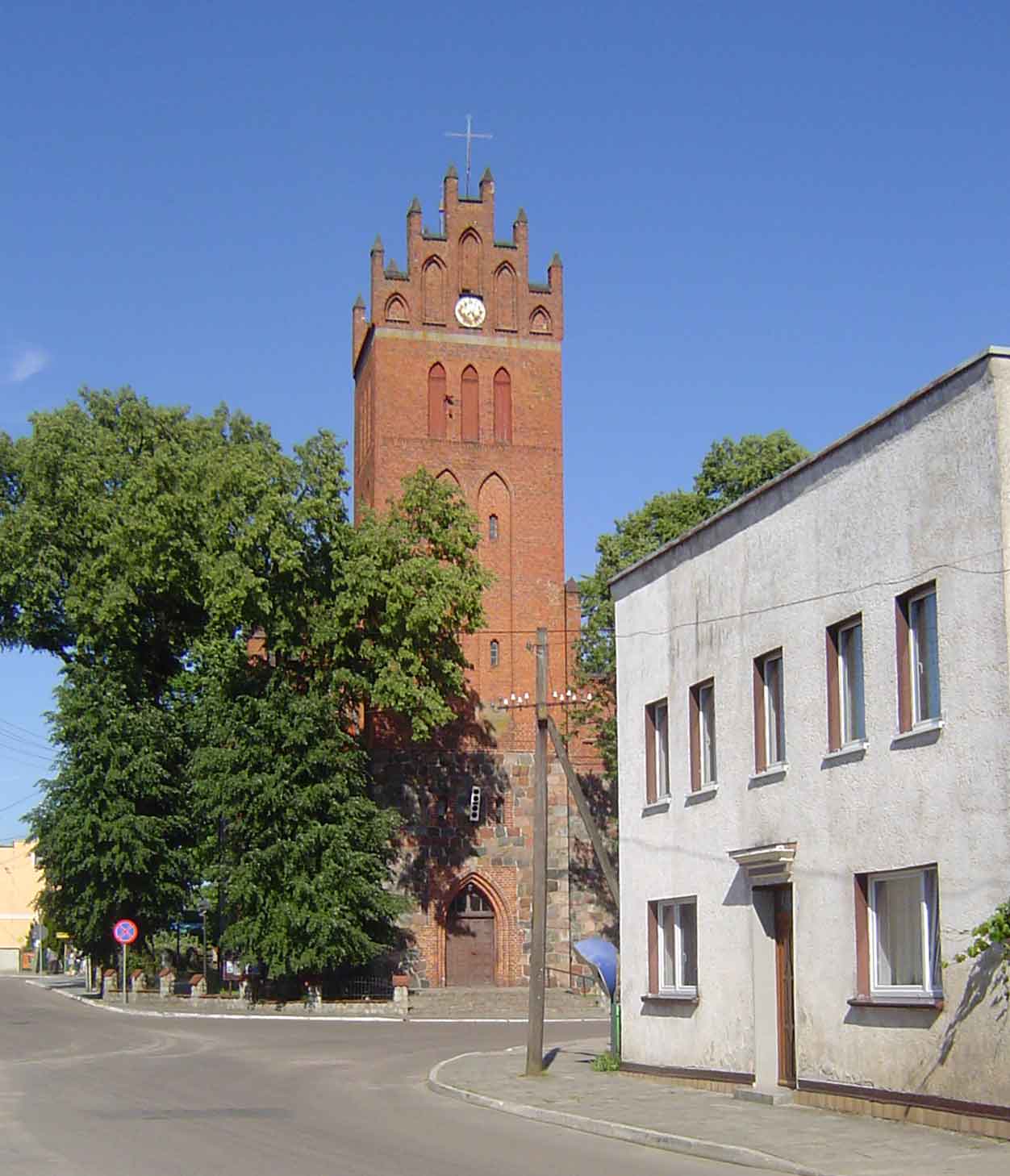 Osiek is located on Kalebie Lake known as Kociewian Sea. Today this village is the location each year of a Gospel Festival. Here is a map of the area: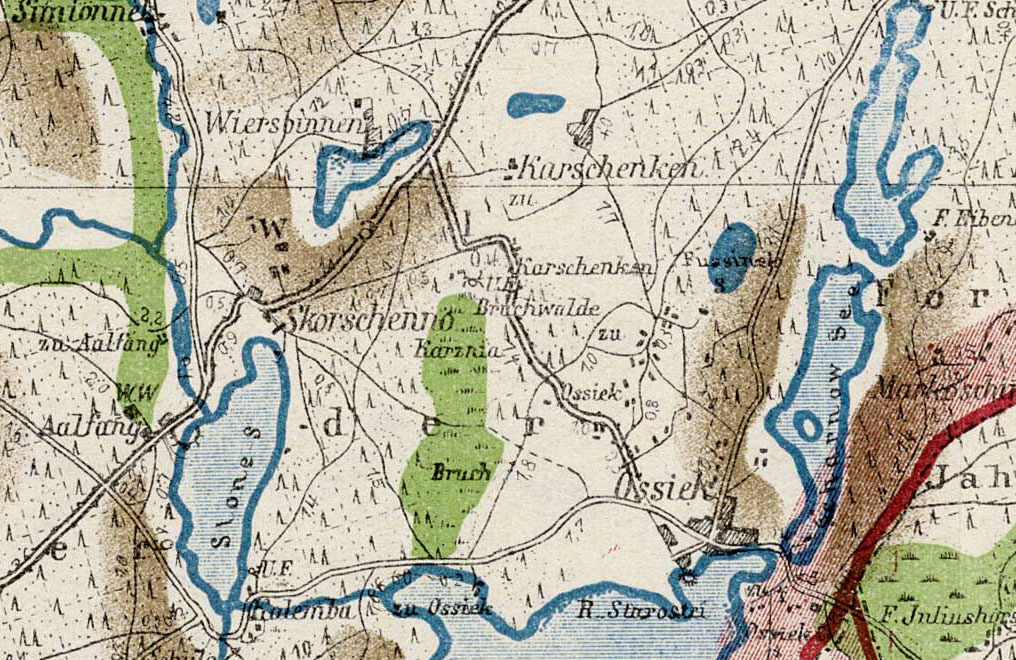 Click here to go to other West Prussia Villages.
Please send any queries to Bill Remus at
July 17, 2008