Grunlinde (Zbosse/Zboze), Kreis Flatow, West Prussia
Zbosse (Zboze in Polish meaning grain and often called Grunlinde in German) is a strassendorf (street village) with houses clustered along both sides of the road. The village is on main road from Vandsburg to Zempelburg. Zbosse was badly damaged in the Second World War so the village is quite modern except for the school built in 1809 (no doubt restored following the war).
Zbosse became both German and Lutheran very early (its name in 1617 was Osowka). Prior to 1620, the Lutheran church was well established north of Zbosse in Zempelburg. On May 1 1720, the Zempelburg church was destroyed and the pastor expelled. The Lutheran's then established a prayer house in Zbosse.
DKF lists a Peter Remus getting schultzenprivileg for Zbosse on 14 June 1718. The details are in LDS microfilm 491232 that shows a copy in German script of the 1718 document. Peter is buying the Schultzprivileg (privilege of being village head) and the estate Lehmanngut (an estate house) from his brother in law Martin Gieus; Martin Gieus may be from the prominent Gieus family of Danzig that had land holdings in the area or the Gieus family of Kreis Schlochau. Johan Jacob Potulicke owned the property. Click here to see the details of the above contract using Adobe Acrobat. Alternatively, you can click on these links to see the seven pages of these documents as Internet tif images (page 1, page 2, page 3, page 4, page 5, page 6, and page 7). The images may appear too big on your screen so download them to set your desired mix of size and clarity.
The above Peter is the father of the Peter in the 1772 census shown as follows:
Remus, ? Zbojen Cammin 18113047 6039 244 2580
Remus, ? Zbosen Cammin Flatow 18113047 6041 123 2580 (duplicate)
The Peter in the census was schultz for the Lehmanngut plus 4 farms in this village and 8 farms in nearby Wysoka, he received these privileges from his father on 18 January 1748 (Wysoka translates as high place since this village was on a ridge near Zbosse). This privilege was shared with Peter Scharmer. Alexander Pottilice owned the property; payments were made to Alexander on St Martin's Day. Click here to see the details of the above contract using Adobe Acrobat. Click here for the descendents of Peter Remus.
The Zbosse church book names Peter Remus as the Schultz during this period. An Inn was established in 1764; Georg Schmitt was the kruger. The census of 1772 says that the Schultz (Peter) was living with wife (Catharina Thoms), two sons (Johan Ludwig and Peter), three daughters (Dorothea Elisabeth, Anna Marie, and Catharina), five hired male workers, and three hired female workers; there were fifteen in household. This Peter is not the same Peter shown for Waldau. In that year, there were 4 farming families, 6 families of farm workers, one shepherd, one gooseherder, a schoolmaster, and some other families for a total of 141 people.
In 1786 a fire burned 12 houses and 11 stables. All that was left in Zbosse was the house of one of the two Schultz, two farms, and an inn. This remaining Schultz' estate (gut) might have actually been in Wysoka since the Wysoka and Zbosse were administratively combined and Wysoka was far enough away to not have the fire spread to it. Perhaps also the fire led moved to the swap of the Peter Klawiter's interest in a Krug (Tavern) in Buchholz for cousin Johan Ludwig Remus' interest the Zbosse Schultz (the privilege to head a village) and Schultzengut (village head's estate). Thus, the Klawiter family became the Schultz of Zbosse. Here are the descendents of Lorenz Christoph Remus and Anna Marie Wenske including Peter Klawiter's wife Susanna Remus.
My great-great grandfather Daniel Remus was born here in 1809 as shown in the All Souls census of this area (he was a cousin of Peter Remus, the schultz mentioned above). Daniel married Christine Bess and my great grandfather August Wilhelm Remus was born in Neutuchel. Daniel's father was Daniel Remus, a shepherd born in Zempelburg in 1772 to 1778 and his mother was Christine Golz born in 1782 in Vandsburg.
If his father Daniel had continued to stay in this village (this is uncertain), his son Daniel Remus would have attended this school built in 1809.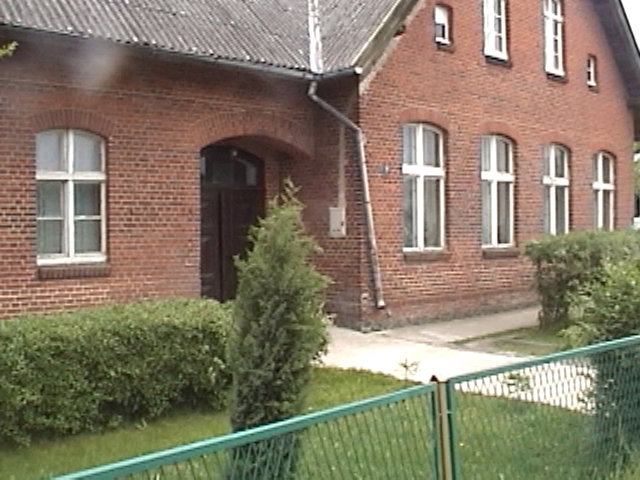 Here is a panoramic view of the beginning of the village.

Want to see the details of this picture? Click here for the Adobe Acrobat Version.
For a Map of Zbosse, Click here for the Adobe Acrobat Version.
Click here to see more pictures of the modern village including those of a few remaining graves from the pre-war era:
Click here to see who was in this village in 1809.
Click here for an 1806 map showing Zbosse at the center.
Click here for a 1914 map showing Zbosse (Grunlinde) at the center.
Click here for a close-up of Zbosse (Grunlinde) in the 1914 map above.
Click here to go to other West Prussia Villages.
Please send any queries to Bill Remus at
October 31, 2006