Bergelau (Czarnoszyce), Kreis Schlochau, West Prussia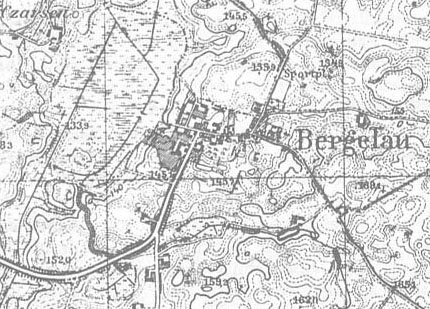 (Click the map to blow it up)
Bergelau is a village in Kreis Schlochau near the village of Pollnitz. Before 1772 the village was called Czarnice; this name came from that of the family Czarnicki in the village. In about 1700 Johan Remus was miller for this village. Note this arrival time corresponds to a period of great death and destruction not far away during the Great Northern War.
Johan initially had a flourmill capable of grinding two lots of wheat at the same time. Later he added a sawmill and a tavern to his holdings. These were all sold in 1720 to Andreas Rogosznicki. This mill was located at nearby Alt Rognitz (Rogonitza) which was considered by Blanke to be part of Bergelau. I believe that this Johan purchased of the gut in Lanken, Kreis Flatow (later held by Jacob Nehring and Eva Remus) and land rights in Ossowo, Kreis Flatow for the family Remus (later held by Christian Remus). The sale of the mill may also have funded Michael Remus' land purchase in Pollnitz. Johan Michael Remus also is the likely father of Eva Dorothea Remus who in 1723 married Erdmann Goede, the miller of Staluner Muhle in Kreis Flatow.
Joachim Y Zylka joachim.y.zylka@aexp.com (email address is out of date) was very helpful and provided this information: "In 1700 Bergelau was a very, very small Polish village with five very poor aristocratic families (altogether 50 people), one of them was the family of my grandmother von Grabowski. ... Seventy years later Bergelau became part of Prussia (Germany) and the most of the Polish people went to central Poland and German farmers received the properties. Only my grandmother's family stayed in Bergelau. "
Robert Starczewski <rpstarczewski@wp.pl> wrote that these families that were "drobna szlachta" or in German "klein Adel". In Poland, there were more than 1 million "little nobility" in XVIII century. In many counties nobility was 30-40 % of population, even over 50 %.
Here is a picture of the current village and the cemetery.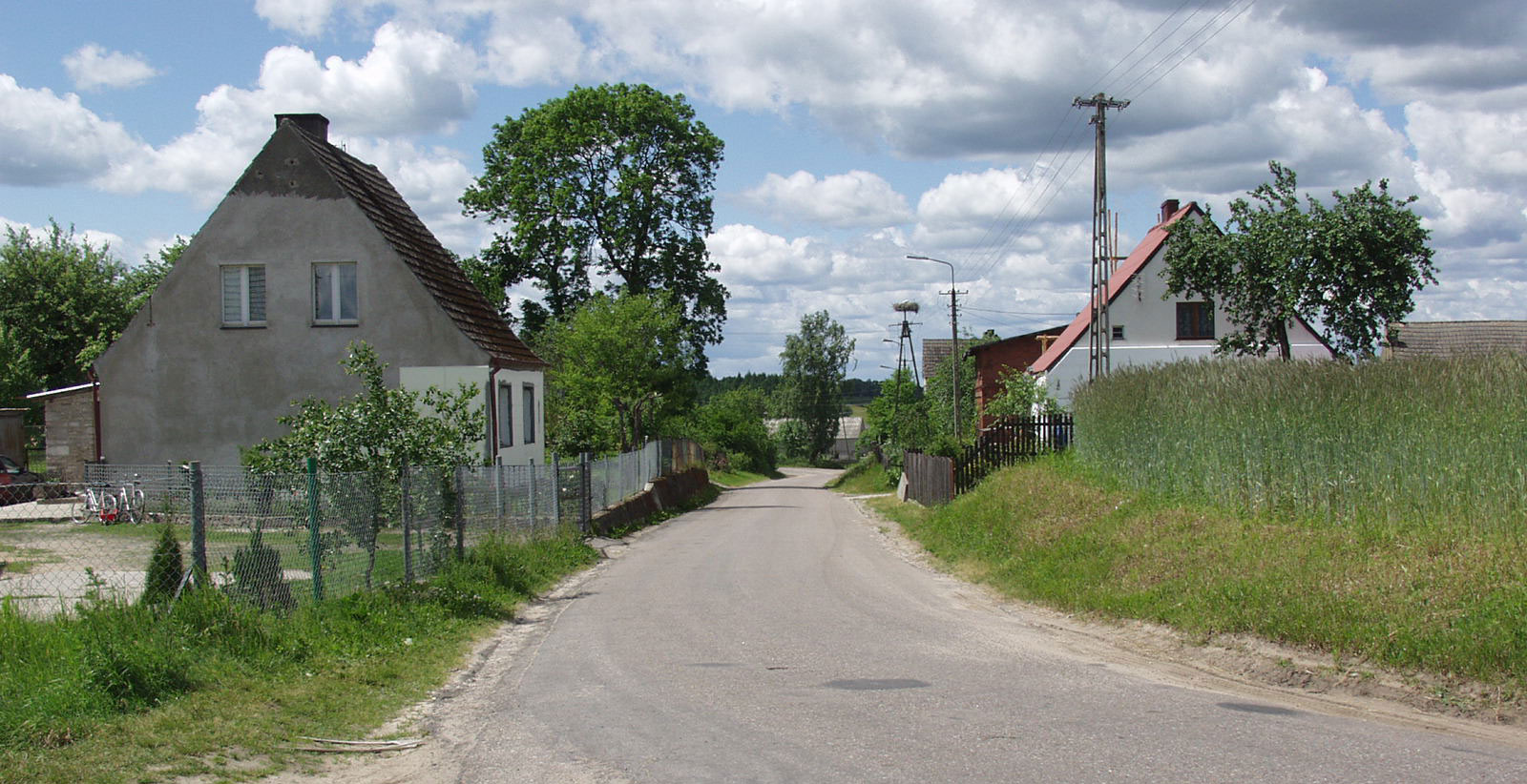 Below is a picture of the large stream and lake near Bergelau: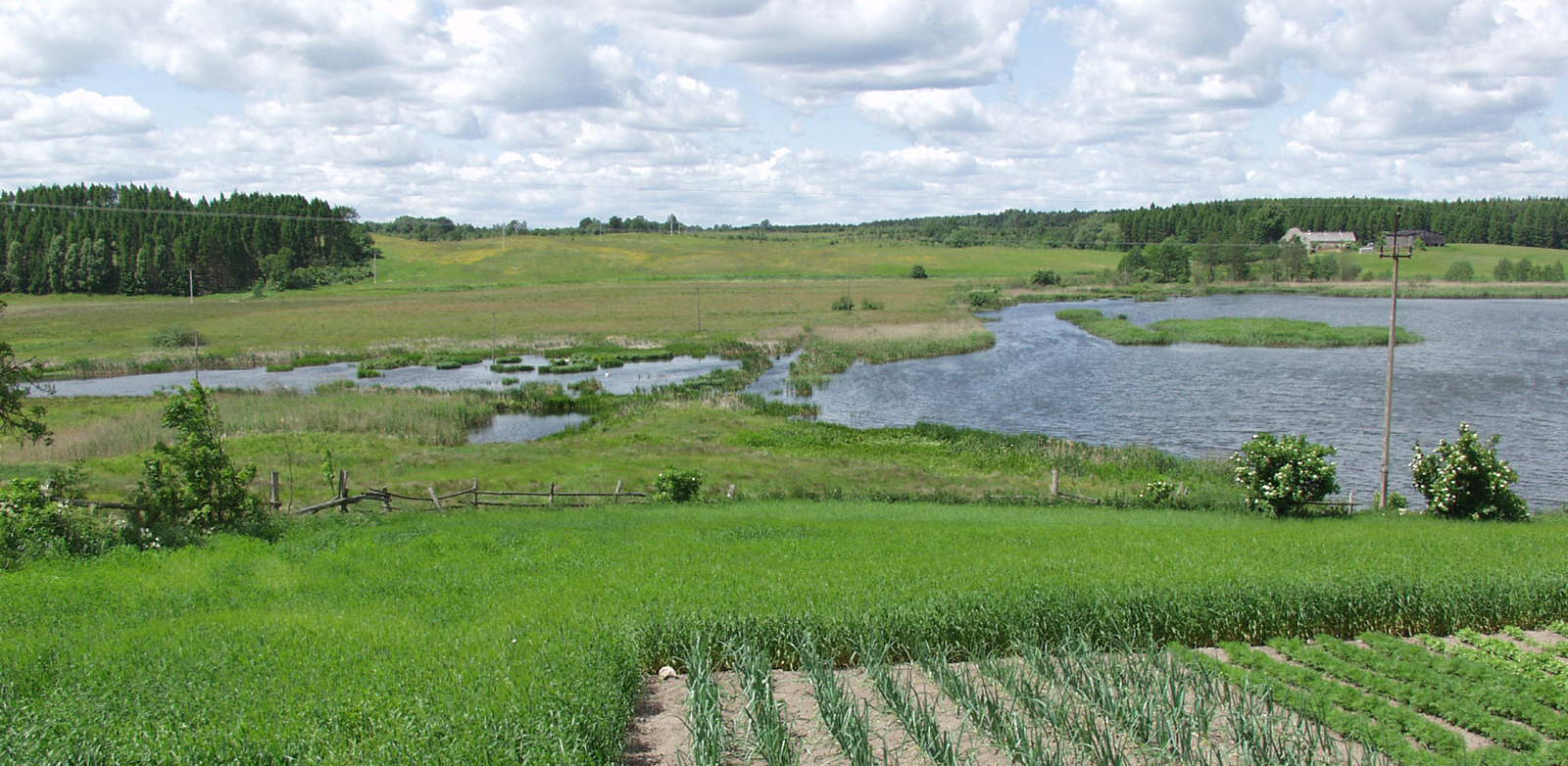 Here is an 1850 map of the village: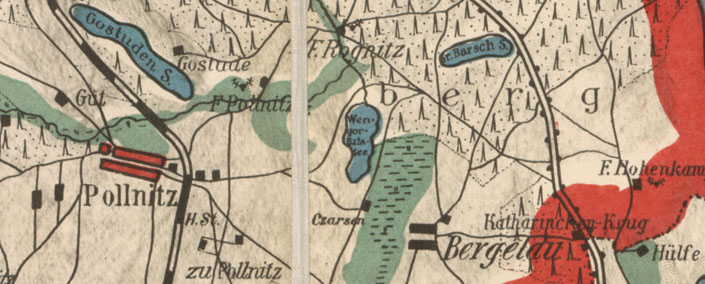 (Click the map to blow it up)
As Joachim Zylka pointed out, there was Polish Nobility in the village. The family names for these families between 1700 and 1800 were v. Janta-Lipinski, v. Grabowski, Schmetter, v. Klonczynski, v. Pradzynski, v. Czarnicki, v. Janta-Polczynski, v. Blankenburg, v. Labanka-Czarnicki, Wyczechowski, Liebenau, v. Grabowski, v. Bogusz, and v. Orlikowski; see http://home.foni.net/~adelsforschung2/preuss.htm
Click here to go to other West Prussia Villages.
Please send any queries to Bill Remus at
February 14, 2010