Pollnitz (Polnica), Kreis Schlochau, West Prussia

Pollnitz is a lovely village in Kries Schlochau. It is first mentioned in 1344. It was a mostly German village of the street village (strassendorf) sort. It has the lovely Holy Trinity church built in 1789 with elements in an earlier church from 1653. There was an Evangelical chapel in the village as early as 1617. The

Teutonic Knights originally established the village in 1341.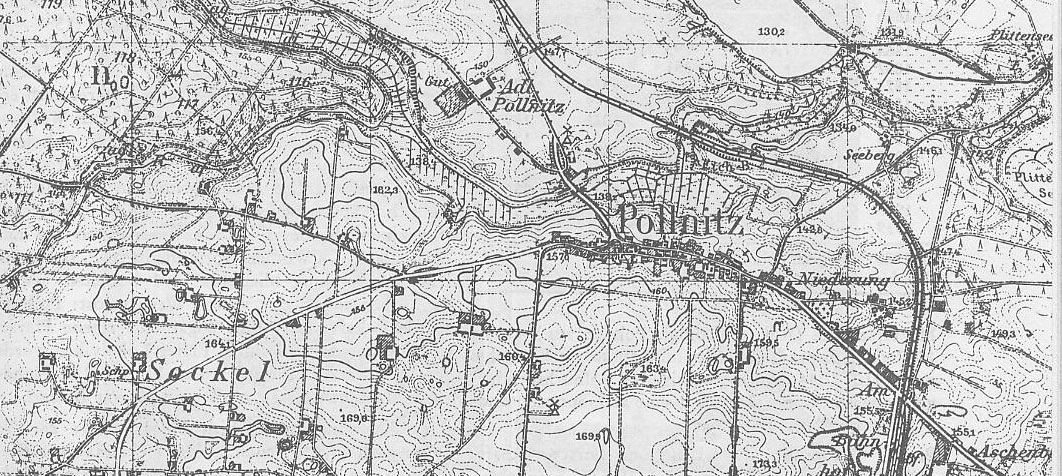 (Click the map to blow it up)

It was a wealthy grain-producing village and had three mills in the area including one in the village (see the windmill site on the next page), one is Borowy, and one in

Rogonitza. In 1737 the earlier Michael Remus combined three farms and created Kolmargut (roughly a home for a wealthy farmer) in Pollnitz; documents show this as a gift of Augustus the Strong, King of Saxony and Poland. This grant was confirmed in 1737 by Augustus III. It was located near the gut (estate) of the local Polish nobles located on the above map (Adl. Pollnitz just above Pollnitz). Click here for the descendents of Michael Remus #1 of Pollnitz.

But which Augustus made the grant? This village had been devastated by the Swedes in the

Great Northern War ending in 1720. The grant could have been from Augustus the Strong and may reflect the fact that Michael had fought for Augustus the Strong in the Great Northern War that removed the Swedes from this area. On Augustus the Strong's death in 1733, the War of Polish Succession took place ending in 1734 with the succession of Augustus III, nephew of Augustus the Strong. Thus the grant might reflect Michael Remus' participation in that War and be from Augustus III. Dr George Lukowski of University of Birmingham in his book on the partitions of Poland noted that "Protestant favorites continued to receive lucrative crown land leases under Augustus III." So it is likely Michael Remus did exactly that in 1737. (For more on Augustus the Strong, read Tony Sharp's book Pleasure and Ambition - Augustus was Strong in both the battlefield and bedroom).

About 1740 Michael Remus the elder died (this Michael is shown in one record with the name Johan so either he was the Johan Remus of

Alt Rognitz (Rogonitza) or that Johan was his father). In any case, Michael (Johan) was succeeded by his son Michael Remus the younger (who I also call Michael #1 of Pollnitz) and wife Elisabeth who were temporarily living in Konarszyn. Michael the younger had at least 12 children and the children's birth records had Polish nobles as godparents. Michael Remus the elder's daughter Dorothea married Franz Klahr in 1743.

Just prior to 1772, Michael the younger and his family moved to

Okiersk, Kries Tuchel and ran a mill there. When the Prussians took over this area they also took over the royal lands and land grants like that of Michael's. Thus, a reasonable explanation for why Michael moved was that he could get secure land title in Tuchel whereas with his Pollnitz land he would have had to deal with the Prussians.

Michael Remus the younger's son Johan Jacob (born 1738) moved nearby

Summzn near Okiersk, Kries Tuchel (and later to Okiersk). Son Michael Remus (born 1748) lived first in Strezin and then remarried and moved to Christfelde.

The 1788 tax records find Adam Mux of Pollnitz married to Dorothea Elisabeth Remus the eldest daughter of Michael Remus the younger of Pollnitz; Michael the younger was listed as a miller and farmer (LDS 491205 p. 987). It is likely that they resided on the land formerly held by Michael above. The 1772 Census record is:

Mix, Adam Polnitz Schlochau 18113097 6041 763 55

Listed as "Freigut", living with wife (Dorothea Elisabeth Remus), five sons (Carl, Simon, Franz, ? and ?), three daughters (Catharina, Dorothea, and ?), one male worker, one female worker, total of 12 in household.

Other daughters of Michael Remus the younger included Barbara who married Christian Schneider, Catherina who married Peter Nadel, and daughter Eva who married Johan Hartmann; these marriages were after 1772 so these families are not shown in the census of 1772. However, another Remus is shown in that census:

In 1772, another different Michael Remus lived this village (he was probably the cousin of the above Michael Remus). Here is the 1772 land census record:

Remuss, Michael Polnitz Schlochau 18113097 6041 763 55

This Michael was living with wife, 2 sons (Johan Georg and Michael), and 2 daughters (Barbara Elisabeth and Anna Catherina). These children were born in Pollnitz and nearby

Pagelkau. His descendents were millers in many places including Doringsdorf, Kries Schlochau, Schworngatz, Kreis Konitz, and Gross Pallubin, Berent. He died in 1776. Click here for the descendents of Michael Remus #2 of Pollnitz.

Also in this village was Lorenz Remus born about 1690. I donít find any descendents of Lorenz still carrying the Remus family name but several daughters married into the Janke family and thrived.

Click here for the descendents of Lorenz Remus.

Here are pictures of the Catholic Church, alter, and baptismal where the Remus children would have been baptized. This church was rebuilt in 1790 after the church burned. The old alter and baptismal were saved and are shown below: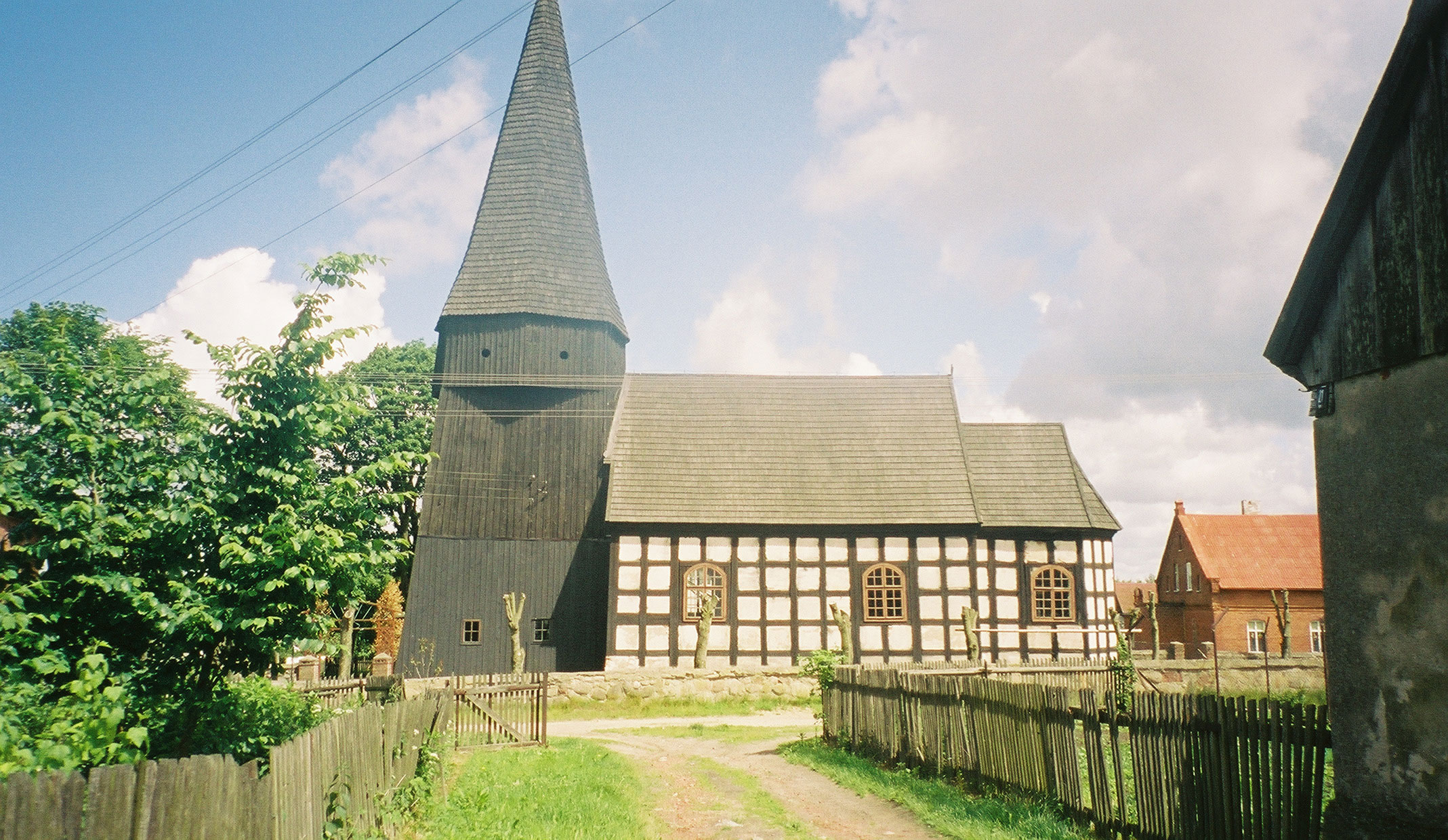 Click here to enlarge the above photo

Click here to enlarge the above photo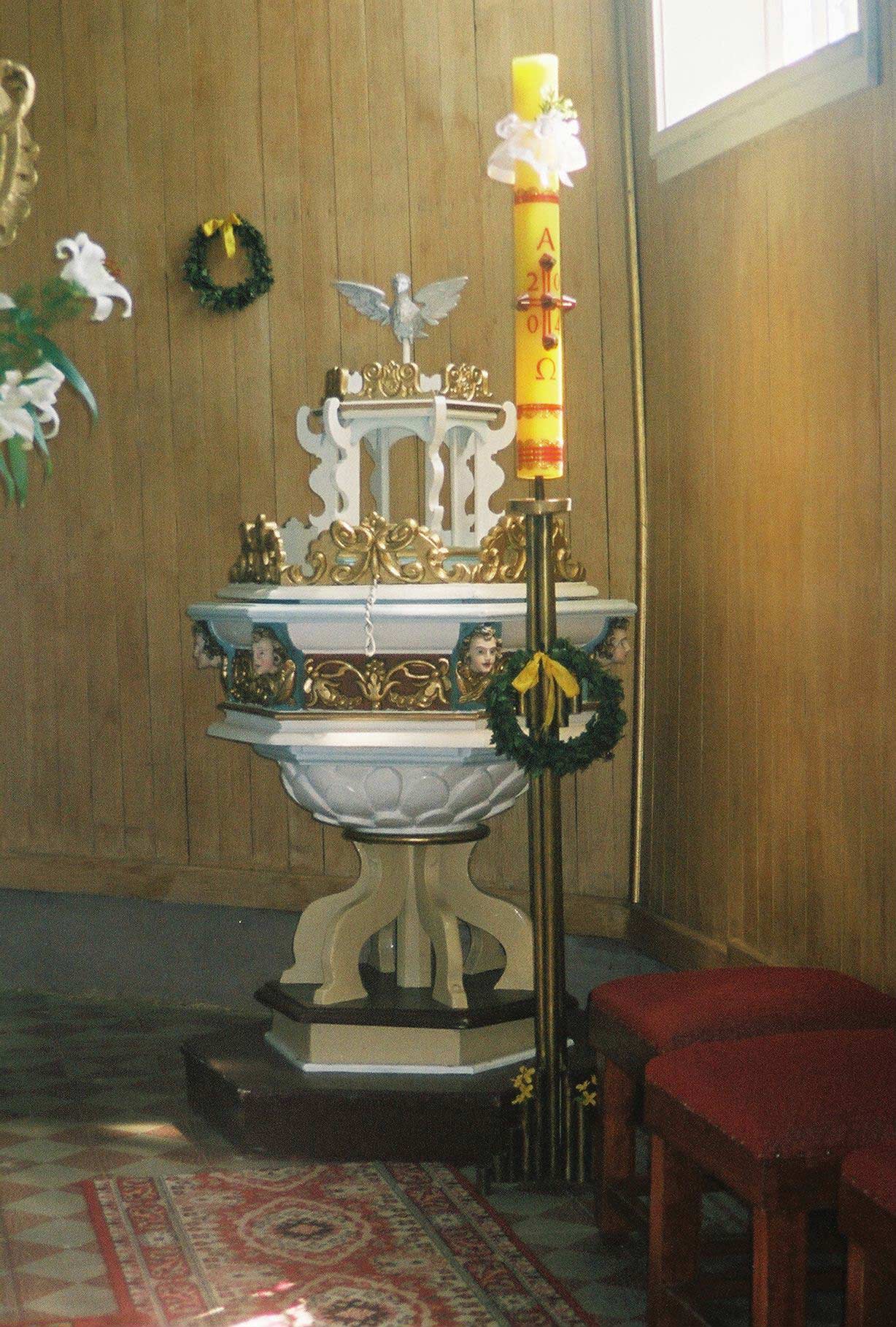 Here is a detailed area map from 1850 showing Pollnitz and Bergelau: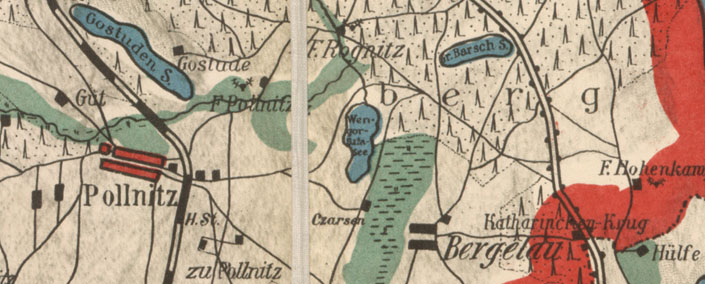 (Click the map to blow it up)
Click here to see more pictures of the modern village.
Click here to go to other West Prussia Villages.
Please send any queries to Bill Remus at
March 4, 2010